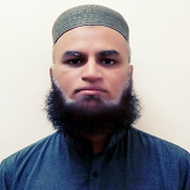 Dean Message
In a comparatively short period of time since its inception in June 2017, the faculty of Life Sciences at Mohammad Ali Jinnah University, Karachi has made rapid progress in academic programs and research endeavors. Under department of Biosciences, Faculty of Life Sciences is offering three programs (BS Biosciences, MS Bioinformatics and MS Biotechnology). PhD in Biotechnology will be started soon.
Highly qualified and research oriented faculty members in the Faculty of Life Sciences are actively engaged in teaching at undergraduate and postgraduate levels. Faculty members are also actively involved in research and publishing in journals of international repute. We have signed MoUs with prominent academic and research institutions of Turkey, Azerbaijan and Uzbekistan for collaboration. Faculty of Life Sciences regularly organize scientific events (workshops and seminars) for general public and researchers. Our Faculty actively participate in major scientific conferences national and internationally. Prof. Kamran Azim, Dean Faculty of Life Sciences has been appointed as Executive Editor of 'Pakistan Journal of Biochemistry and Molecular Biology', the official journal of 'Pakistan Society of Biochemistry and Molecular Biology'.
Infrastructure of Laboratories in department of Biosciences are continuously in progress. Infrastructure and instruments in laboratories of department of Biosciences is suitable for conducting experiments related to biochemistry, molecular biology, molecular cloning, physiology, pharmacology, microbiology, genetic engineering, analytical biochemistry, protein chemistry etc.
WHAT'S IT ABOUT?
Department of Biosciences
The Faculty comprises of Department of Biosciences. The department offers BS, MS and PhD programs with different specializations.