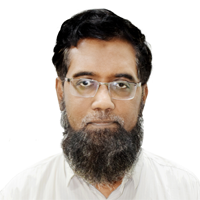 Dr. Tafseer Ahmed Khan (PhD UoK, Germany)
ASSOCIATE PROFESSOR
PROFILE SUMMARY
Dr. Tafseer Ahmed has teaching and research experience of 20 years. He got his PhD from Universitaet Konstanz, Germany in 2009. He has worked on theoretical study of grammar as well as on computer applications involving Pakistani languages specially Urdu. His post doctoral work was on Computational Grammar of Urdu at University of Konstanz. He has worked on Urdu Propbank for University of Colorado, Boulder. He was co-PI of the DAAD, Germany funded project "Urdu Text to Speech: Understanding Intonation". Dr. Tafseer Ahmed was publication chair of 4th Conference of Language and Technology 2012, program chair of 5th Conference of Language and Technology 2014 and convener of International Conference on Data Science 2019.
QUALIFICATION
PhD
Computational Linguistics
University of Konstanz, Germany
2009
MSc
Computer Science
University of Karachi
1998
BSc
Physics, Maths, Statistics
University of Karachi
1994
RESEARCH AREAS / INTERESTS
Natural Language Processing
Computational Linguistics;
Multilingual Computing.
RESEARCH AREAS / INTERESTS
Machine Learning;
Artificial Intelligence;
Theory of Computation;
Compiler Construction.