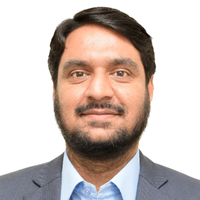 Dr. Zubair Ali Shahid (PhD UoA, Australia)
Associate Professor
PROFILE SUMMARY
Dr. Zubair Ali Shahid has teaching and research experience of 09 years. He received a Ph.D. from the University of Adelaide (on University of Adelaide and Adelaide Business School Scholarships), AABCS and Go8 ranked business school in Australia. He has also completed a Master in Marketing (HONS) – Research from Griffith Business School (AACSB ranked). He has worked on the Internationalization of entrepreneurial firms from emerging markets. Dr. Zubair brings on board global teaching experience of delivering courses at the University of Adelaide, Flinders Business School, Australian Institute of Business, and Flinders International Study Center. He has published on Belt and Road Initiative, International entrepreneurship (Won Emerald Literati Award 2020 for Outstanding Author Contribution, 2020), Social Sustainability in Responsible Supply Chains. His work has been presented at the Academy of International Business, Australia New Zealand Marketing Association (throughout 2012 – 2020).
QUALIFICATION
PhD
Business
University of Adelaide, Australia.
2016
MS
Marketing
Griffith Business School, Griffith University Australia.
2009
RESEARCH AREAS / INTERESTS
International Entrepreneurship;
International Marketing;
Qualitative Methodology.
TEACHING INTERESTS
International Business;
Entrepreneurship;
International Marketing;
Qualitative Methodology.